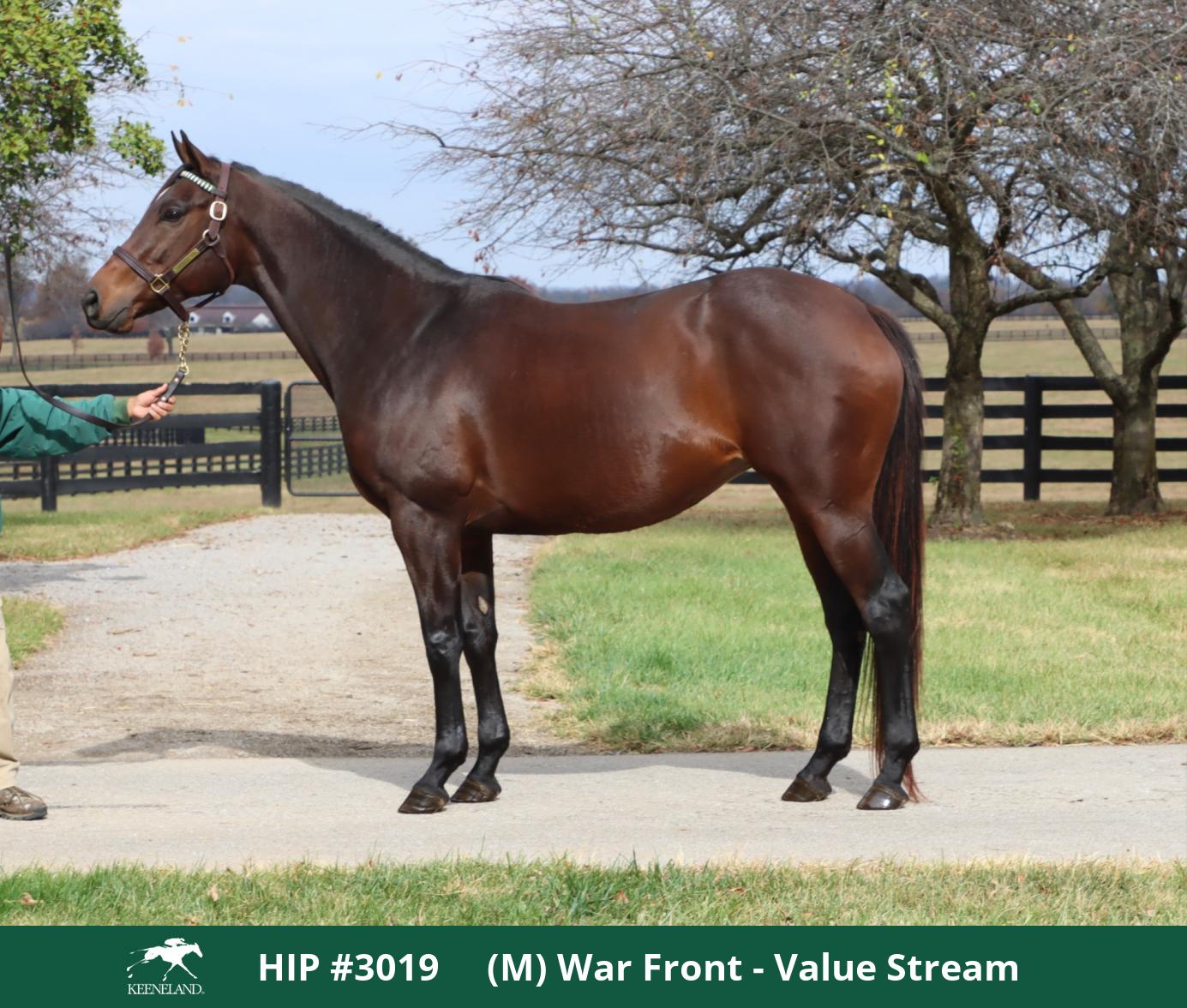 Bay, Mare, Foaled 04/28/2015 — Purchased for $35,000
War Front - Value Stream, by A.P. Indy
Offering Detail
Exciting autumn in Kentucky. The Breeders' Cup at Keeneland. The undefeated Horse-of-the-World Flightline goes from the Winner's Circle to the Stallion Show Ring at Lane's End. Days on end of fabulous breeding stock sales. No wonder all this excitement has the bloodstock market for young mares at ridiculously high demand.  Country Life's buying team of Mike and Josh Pons and General Manager Christy Holden were in Kentucky for almost two weeks. We sold a weanling at Fasig-Tipton's "The November Sale" for our Breeding Partnerships for $140,000, a broodmare at Keeneland for $65,000, and finally, finally, we outlasted the heated-up market and found great value in a mare named War Value.
In this strong market for young mares, we were disciplined about our single most important quality for a Country Life Broodmare Partnership: Racing class—specifically, SPEED. We passed up plenty of young mares who racked up earnings but never ran fast. We were looking for just one young pregnant mare, someone who ran "10's" or under, with a deep pedigree, and in foal to a quality young stallion.  Our wait was rewarded at the very end of the 8th Session of the Keeneland mixed sale. War Value, by international super-sire War Front, lit up our search engines; even her name was a signal. Research on War Value supplied her glittering biography. She cost $600,000 as a yearling at Keeneland in 2016. She broke her maiden by 9 1/2-lengths for Todd Pletcher and St. Elias Stable at Saratoga in a race carded on the dirt, but actually run in the slop. She ran a 10 when breaking her maiden; ran a 10 in her previous race. (You can watch her Maiden Win by Googling it on YouTube, 7th-race, Maiden Special, $88,000 purse, August 3, 2018, on the "Saratoga Live" program.) Although her sire War Front is known for champion grass runners, War Front himself won a G1 sprint at Saratoga. His daughter War Value likewise scored big at the best racing meet of the year: Saratoga.
War Value was boarded at Lane's End Farm, where she visited the Lane's End sire Twirling Candy in 2020. That yearling just sold for $85,000 at Keeneland this past September. War Value came into the Keeneland mixed sale as part of a reduction of mares owned by Vinnie Viola's St. Elias Stable. She was sold carrying a foal by St. Elias' Florida Derby (G1) winner Known Agenda (by Curlin), who covered 166 mares in his first season at stud in 2022. (Country Life booked a mare in 2022 to Known Agenda through the Share-the-Upside program at Spendthrift Farm.)
War Value's dam is the A. P. Indy mare Value Stream, who prominent breeder R. S. Evans bought for $675,000 as a Keeneland yearling in 2006. War Value's second dam is the $2.2-million Storm Cat mare Storm Beauty, a 1/2-sister to champion sprinter Gold Beauty, for whom B. B. A. England gave $1.2-million. Gold Beauty produced G1 Breeders' Cup winner Dayjur and G1 Alabama Stakes winner Maplejinsky. The catalog page for War Value isn't big enough to list all the fabulous and famous black-type runners in the family.
War Value's 1/2-sister by Street Cry, Cry Value, is the dam of this year's G1-placed 2-year-old Tonito's, who sold for $825,000 just 10 days ago at the Fasig-Tipton Night of the Stars sale.  No announcement was made of this huge update as Country Life prepared to bid on War Value. That's how busy the market is right now. An "oh, by the way" update overlooked, that a niece of the mare in the ring just brought $825,000.
To have found a 7-year-old mare by champion sire War Front, in foal to a Freshman sire at a stallion-making farm like Spendthrift, for $35,000, seems improbable.  But that is the reward for shopping with discipline. We are syndicating War Value at no markup, 10 shares at $3,500 each, Country Life taking the first 10% interest. Expenses on a broodmare average about $300 a month, not including whatever stud fee is selected by the partners for future matings. We expect to breed War Value back down in Kentucky again in 2023, after she foals out her Known Agenda into the lucrative Maryland-Bred bonus program.
If you've been waiting for an affordable entry into the fascinating world of Thoroughbred breeding, here's your chance. Become a partner with Maryland's oldest Thoroughbred breeding farm: Country Life, founded in 1933.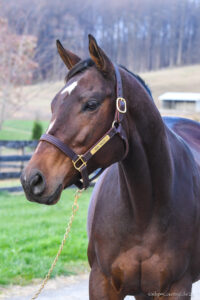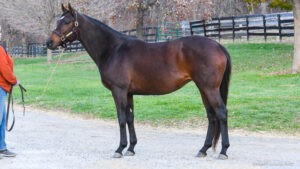 Financial Summary
Purchased for $35,000, shares are being offered at $3,500 (no markup)
Expense Information
Expenses are billed at the end of each month and are estimated to be around $300/month per 10% share.