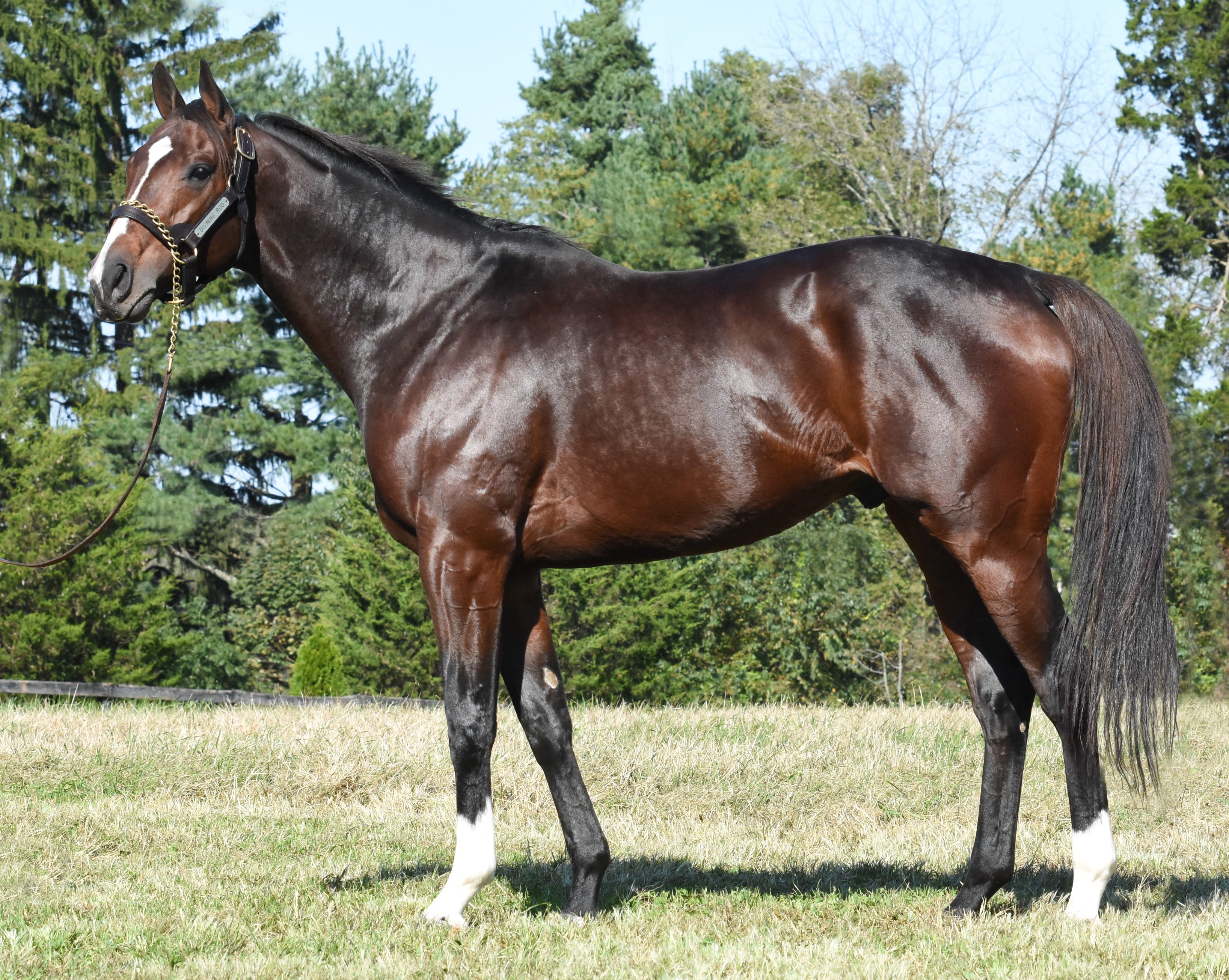 DIVINING ROD
Tapit - Precious Kitten, by Catienus
2012, Bay , 16.1h · Entered Stud: 2018
Fee: $5,000 LFSN
First crop runs in 2021. #1 First Year Sire in Mid-Atlantic by mares bred in '18. GSW of nearly $900,000 w/ 105 Beyer.
Tapit's graded-stakes-winning son Divining Rod, who lost by a head to Connect in the 2016 G1 $500,000 Cigar Mile, was a precocious two-year-old Maiden Special winner, going wire-to-wire in his first start to win by nearly 3 lengths. He is owned by Country Life, Roy and Gretchen Jackson, and Gainesway Farm. Racing in the Lael Stables silks of his breeders, the Jacksons, Divining Rod earned $882,604 in three campaigns, which included a third-place finish in 2015 to American Pharoah in the G1 Preakness Stakes.
The Jacksons bred him from three-time Gr. 1-winner Precious Kitten, a ½-sister to Leading Sire Kitten's Joy and an earner of $1,912,543. "Divining Rod gave us many thrills at the track, especially when he almost won the Cigar Mile," said the Jacksons. "With his physical, pedigree, and performance on the track, we believe in him as a stallion, and will support him in the breeding shed, as well as in the sales ring."
His dam Precious Kitten won the GI Gamely, Matriarch, and John C. Mabee Handicaps. In addition to Precious Kitten and Kitten's Joy, Divining Rod's second dam Kitten's First also produced Justenuffheart, dam of Breeders' Cup Juvenile Fillies (Gr. 1) champion 2-year-old Dreaming of Anna ($2,024,550) and GII winner Lewis Michael ($811,714).
Tapit, the leading North American general sire the past three years, stands at Gainesway. In purchasing an interest in Divining Rod, Gainesway owner Antony Beck said: "I saw him win the Lexington, and I've had my eyes on him ever since. I'm breeding 10 of my own mares to him for each of the next four years to help launch him. I'm looking for the next Tapit."
Trained by Arnaud Delacour, Divining Rod won his debut at two in wire-to-wire fashion. He was beaten a neck in the Sam Davis Stakes (Gr. 3), and ran third in Carpe Diem's Tampa Bay Derby (Gr. 2) before winning the $250,000 Lexington Stakes (Gr. 3) at Keeneland by three lengths. Though he had enough points to start in the Kentucky Derby (Gr. 1), his connections bypassed the Derby for the Preakness, where he ran a good 3rd to American Pharoah. Said Delacour: "Divining Rod was one of my best horses, so athletic and talented. He was very much like Tapit, in that he was a top-class competitor who wanted to do things his own way. If you look at the stretch run of his Cigar Mile, he was toying with Connect, and it cost him the race. He galloped out in front, thinking he was the winner."
In the Cigar Mile, Divining Rod and Connect battled nose-to-nose, before Connect put his head down first on the wire. Divining Rod came back in 2017 to wire the field by seven lengths in the $100,000 Polynesian Stakes at Laurel, and he then ran second to Sharp Azteca in the $300,000 Kelso Handicap (Gr. 2) on Sept. 23. He completed his career with five wins, four seconds, and five thirds – 14 times in the money from 17 starts.
Country Life Farm co-owner Mike Pons said: "This horse has the speed, pedigree — and attitude — to make a terrific sire. He's 16.1 hands and beautifully balanced. And his dam Precious Kitten is the best racemare to have a son of Tapit at stud. She's the kind who can produce a leading sire."
"This is a top recruit for the vibrant Maryland breeding scene," said Country Life's Josh Pons. "He lost a Grade One by a head-bob. He placed in a classic to a Triple Crown winner. He ran a 105 Beyer and a 1 Ragozin in the Cigar, huge numbers, in a stallion-making mile race. All the partners are supporting him at stud, and we are breeding at least a dozen of our own. And he's modestly priced at $5,000 LFSN for access for our regional breeders."
INFO REQUEST
| Age | Starts | 1st | 2nd | 3rd | Earned |
| --- | --- | --- | --- | --- | --- |
| 2 | 2 | 1 | 0 | 1 | $24,800 |
| 3 | 7 | 1 | 1 | 4 | $503,204 |
| 4 | 4 | 2 | 2 | 0 | $203,600 |
| 5 | 4 | 1 | 1 | 0 | $151,000 |
| Totals | 17 | 5 | 4 | 5 | $882,604 |
Won at 2
A maiden special weight race at Laurel Park
(8f, D, defeating Today's Agenda, Strike Em Down, Soul Man, Sugimoto, Ice It, Citizen Bull, Pequot, Book the Bet, Bet On Me Joe).
Won at 3
Coolmore Lexington S. (gr. III) at Keeneland
(8.5f, D, defeating Donworth, Fame and Power, Comfort, Henry Jones, Tiznow R J, Quimet).
2nd at 3
Sam F. Davis S. (gr. III) at Tampa Bay Downs
(8.5f, D, to Ocean Knight, defeating My Johnny Be Good, Ami's Flatter, Catalina Red, Crittenden, Royal Son, Coomer, Bears Personality, Brother Bobo, Bandages, G Five).
3rd at 3
Xpressbet.com Preakness S. (gr. I) at Pimlico
(9.5f, D, to American Pharoah, Tale of Verve, defeating Dortmund, Mr. Z, Danzig Moon, Firing Line, Bodhisattva).
Indiana Derby (gr. II) at Indiana Grand Race Course
(8.5f, D, to Tiz Shea D, Mr. Z, defeating Bold Conquest, Island Town, Far Right, Alabaster, Deliverance Day).
Tampa Bay Derby (gr. II) at Tampa Bay Downs
(8.5f, D, to Carpe Diem, Ami's Flatter, defeating Danzig Moon, Great Stuff, Moonlight Bandit, Ocean Knight, My Johnny Be Good).
Ohio Derby at Thistledown
(8.5f, D, to Mr. Z, Tencendur, defeating War Story, Thirtysilverpieces, Far Right, Dekabrist, Whiskey Ticket).
Won at 4
An allowance optional claiming race at Parx Racing
(8f, D, defeating Gourmet Delight, El Grande Rojo, Lawyer Dave, Let Me Go First, Savvy Street, Tekton).
An allowance optional claiming race at Parx Racing
(8f, D, defeating Nauset Beach, Noble Kent, Prado U, Caliparty, Zipped Code, Danzig Storm).
2nd at 4
Cigar Mile H. (gr. I) at Aqueduct
(8f, D, to Connect, defeating Realm, War Story, Anchor Down, Threefiveindia, Tale of S'avall, Economic Model, Mylute, Ocean Knight).
Hagyard Fayette S. (gr. II) at Keeneland
(9f, D, to Noble Bird, defeating Hawaakom, Mr. Z, Prayer for Relief, Iron Fist, Chocopologie, Kasaqui (ARG)).
Won at 5
Polynesian S. at Laurel Park
(7f, D, defeating Vorticity, Rockinn On Bye, Royal Squeeze, Southern Barbecue).
2nd at 5
Kelso H. (gr. II) at Belmont Park
(8f, D, to Sharp Azteca, defeating Tom's Ready, Tommy Macho, Ross (IRE), Bird Song).