DIVINING ROD-SALTWORKS FILLY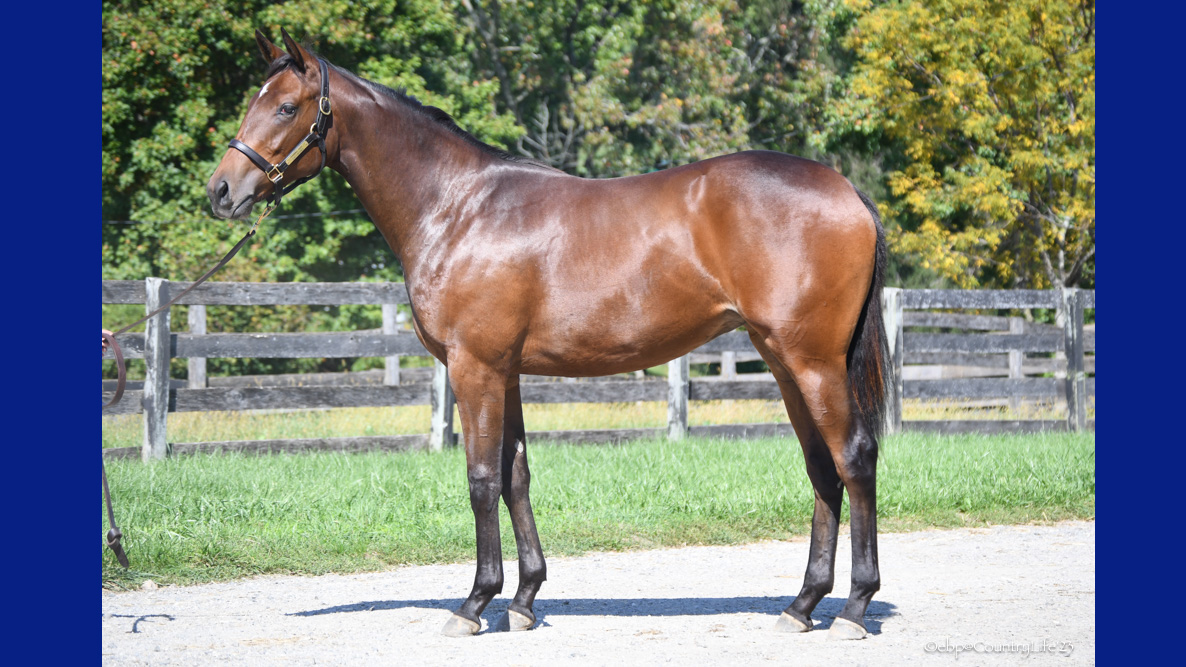 Bay, Filly, Foaled 04/28/2022 — Purchased for $42,000
Divining Rod - Saltworks, by Bullsbay
Offering Detail
One of our first questions before buying yearlings for our Country Life Racing Partnerships is "eligibility to incentive programs." With that in mind at last week's Fasig-Tipton Midlantic Fall Sale, we bought a Maryland-bred filly by Divining Rod whom we will send south to become Virginia-Certified.
*Fair warning: If this filly someday earns consideration for the broodmare band, this racing partnership may evolve into a breeding partnership. It is becoming increasingly difficult to afford nice young mares at auction.
The yearling filly cost $42,000; 10% shares will be $4,200. Monthly expenses on a racehorse average around $3,500; 10% of the monthly expenses will run between $300-$400.
Backstory on today's shifting racing landscape: If you've driven on I-95 below Washington, D.C., recently, you may have noticed the latest casino being built in Virginia, at the Dumfries exit. Since Churchill Downs bought Colonial Downs 20 miles east of Richmond two years ago, they have been "building out" their allotment of 5,000 Historical Racing Machines. They presently have 2,500 machines in Virginia, and for every 100 additional machines, Colonial must allot one additional day of racing: 5,000 machines equal 50 days of racing.
With purses in the $700,000-a-day-range next summer at Colonial, we feel strongly that the Virginia-Certified program when doubled-down with the Maryland-Bred program is the most effective combination available for stables racing in the Mid-Atlantic. "Hybrids," in other words: part Maryland, part Virginia. The wave of the future.
While fillies must come from good families, the most important consideration for a future racehorse is conformation—the "physical," as they say.
If we like the pedigree and the physical, then we review the veterinary reports in the Repository. If that's a clean finding, we reexamine how the filly walks after repeated showings, how she reacts temperamentally to the stress of the sales grounds. We consult with the consignor, get updates on the family. Then we bide our time as the yearling comes into the sales ring, hoping our presale valuation is not exceeded.
And sometimes, we get the one we came for.
That's how we feel about the Divining Rod filly. Just look at her photos. Big, beautiful bay filly. Good-boned. Good-sized. Good walk… and good gallop when we turned her out in her paddock on her first day at Merryland. She had already been ridden on the training track at Chanceland Farm prior to the yearling sale. She won't take long for her early schooling before heading to Virginia.
She is the second foal from the young mare Saltworks, who won a Maiden event by 7 lengths at Pimlico, clocking a Thoromanager "12," a very good number for only her second start. Saltworks is a half-sister to the most prominent Maryland-bred filly of the last decade: $1,229,740-earning, Kentucky Oaks Grade One-winning Cathryn Sophia.
Link here: Cathryn Sophia
Because Cathryn Sophia was by a son of Street Cry named Street Boss, Saltworks' breeder Katy Voss of Chanceland Farm sent Saltworks back in 2023 to be bred to another Street Cry-line stallion in Street Sense's Grade 1-winning son Speaker's Corner, who stands for $20,000 at Darley Stud in Kentucky. Saltworks is receiving every opportunity to add blacktype to her produce record.
Take a moment to appreciate what a star was Cathryn Sophia: She won her first four starts by a total of 40 lengths, virtually untouchable. The winner of the $1-million Kentucky Oaks in 2018, Cathryn Sophia was purchased for $2.3-million, in foal to Into Mischief, at the 2019 Keeneland November mixed sale.
This past spring, Cathryn Sophia produced a filly by arguably the best sire in the country, Gun Runner, and was bred back to Gun Runner for a prospective foal of 2024. Cathryn Sophia also has two young daughters in production, sired by Into Mischief and Pioneerofthenile.
That's a lot of fillies in the family of our new Divining Rod filly. With only three crops to race thus far, Divining Rod is emerging as Maryland's best young sire. He has already sired five stakes winners and 20 individual runners who each have earned more than $100,000.
If the price point of $4,200 for a 10% share in this daughter of Divining Rod is the right way for you to play the game with Maryland's oldest Thoroughbred horse farm, touch base promptly, please. Our "NO MARKUP" policy from the auction stand to our fine farm insures a level playing field for newcomers and veterans alike in the horse business.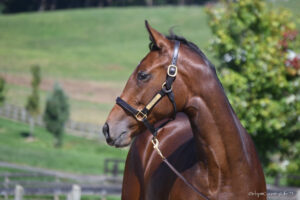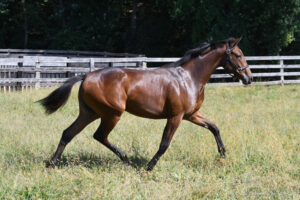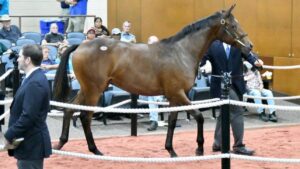 Financial Summary
Purchased for $42,000 from the Fasig-Tipton Midlantic Yearling Sale in October of 2023
Shares are being offered at no markup: $4,200 for a 10% interest
Expense Information
Monthly expenses are estimated to be around $400/month per 10% share until the horse gets to the races, after which purse earnings are expected to offset expenses. Statements are sent at the end of each month with expenses pro-rated per share.