Offering Detail
Here's what we learned in Kentucky at the 2019 Keeneland November Sale: That if you have a good horse, the market is there. If you don't, it's not. For example, more than 100 offerings in the last sessions at Keeneland failed to bring a bid.
If you want to be in the horse business these days, you need to upgrade your stock. Think five years ahead: Every indication is that a new Pimlico will be home to a boutique-meet built around the Preakness; that a new Laurel will be our exciting everyday race place—maybe the home of a Breeders' Cup.
Around the country, Maryland is regarded as a bright spot to breed and race. But we better be stocked with good horses. We better have foals by hot stallions such as Constitution to sell or race, and we will need mares by broodmare sires such as A. P. Indy to produce competitive Maryland-bred foals.
With the Maryland-Bred rewards program at 30% Breeder's Awards and 30% Owner's Awards, our Breeding and Racing LLC's capitalize on this lucrative program. For example, this year some of our first breeding partnerships have begun collecting MD-bred breeder awards. Runners out of partnership mares Atlantic Tide, Fifteen Moons, Fleet and Fancy, Miss Moonshine and Moon Map have won at Laurel, earning thousands of dollars in breeder's awards. Maryland-bred partnership racehorses are earning 30% Owners bonuses for us as well, like Monte Crista, who ran through her conditions in Maryland and then won the $100,000 Riskaverse Stakes at Saratoga. She earned $155,000 and was sold at Fasig-Tipton's Night of the Stars sale for $95,000.
This is the ride a good horse can take you on. REAL GOOD TIME is a 3-time winner (see the chart from her Allowance win at Tampa Bay here). Her catalog page is here: Hip 2823. Her sire Hard Spun (pictured below) just sired $1-million Breeders' Cup Dirt Mile (G1) winner Spun to Run, who defeated favorite Omaha Beach.
REAL GOOD TIME's covering sire Constitution is booked full at $40,000 for 2020. Syndicate shares in him are trading for half-a-million dollars. He is the #1 First Crop Sire by Graded Stakes Winners (ahead of Triple Crown winner American Pharoah). Constitution is a son of Tapit; our plan is to breed REAL GOOD TIME to our son of Tapit, classics-placed Divining Rod, in 2020.
Ken Ramsey bred REAL GOOD TIME to his champion sire Kitten's Joy; the mare has a 2-year-old by him. Ramsey bought a draft of seasons to Constitution before the freshman sire's crop debuted. REAL GOOD TIME was bred to him on April 14. Six months later, Constitution is represented by Graded stakes winners Tiz the Law (G1), Amalfi Sunrise (G2), By Your Side (G3), and Independence Hall (G3). He is the only Freshman Sire with a G1 winner so far. His top colts are aiming for the Triple Crown trail in 2020.
——————————————————————————————————————-
Our second purchase, SISTER STATE, dazzled her rivals when running a "8" to break her maiden at Belmont Park, and then ran a "7" – a huge speed figure, in a Saratoga allowance. Just look at the chart from her sensational win at Saratoga, here. She earned $123,000 in the silks of the Godolphin Stud.  The A. P. Indy mare is a daughter of the Quiet American mare Well Related, a full-sister to Cara Rafaela, dam of A. P. Indy's Preakness-winning son Bernardini. This is a great female line. Just look at her catalog page (Hip 3317): the A. P. Indy cross on Quiet American mares is A++.
She has a 2-year-old by Into Mischief, and a yearling by More Than Ready. She is in foal to Godolphin's 2008 Champion 2-year-old colt Midshipman (link to TDN ad). Godolphin initially sent SISTER STATE to Distorted Humor this year, but the elderly Leading Sire, who stands for $100,000, is encountering fertility issues. So SISTER STATE was switched to young fertile Midshipman.
The War Front line on the A. P. Indy line is a powerful pedigree nick, and our plan is to mate SISTER STATE to Country Life's War Front stallion MOSLER after she foals out a Maryland-bred Midshipman next March.  MOSLER is poised to be the Leading Freshman Sire in Maryland come the 2020 racing season. He has 75 First-crop 2-year-olds reaching the races next summer.
SISTER STATE is a handsome, correct mare with a big swinging stride. She is by the legendary sire A.P. Indy, pictured below.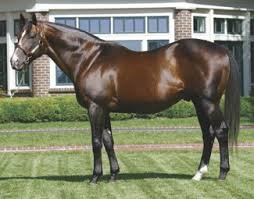 Mares like REAL GOOD TIME and SISTER STATE are the key to competing in coming years. Imagine Maryland-bred runners out of these mares, running at modern new racing plants in Maryland.
Financial Summary
At no markup from their public auction price, each mare is being offered individually. Country Life is taking the first 20% interest, and offering 4 shares in each mare. The LLC's will vote to determine the future dissolution date of the partnership.
A 20% share in REAL GOOD TIME costs $6,600
A 20% share in SISTER STATE costs $8,000.
Majority Rule for decision-making is 60% (3 of 5 shares).
Board expenses for a 20% share per month will be in the range of $300.
Expense Information
Board expenses will average $300/month for a 20% share. Blacksmith, veterinary, routine medications, insurance, etc. will be billed as they occur each month.